Karl Walter: The CEI who wants to see others grow
Name: Karl Walter
Born: Portugal
Family: Wife and son
Job: CEO, Dufry Sweden
Best airport tip: Arrive well in advance for your flight so that you have time to enjoy everything that Stockholm Arlanda Airport has to offer.
Best food tip at Stockholm Arlanda Airport: Pontus in the Air, Terminal 5.
Best product tip: Byredo, which is no other airport than Stockholm Arlanda Airport, Terminal 5.
What is it like to be a tenant with Swedavia? When I compare Swedavia with many other airports, I feel that we have close collaborations and a partner that listens and understands. It's a really good partnership. Together we are a single unit, together we are Stockholm Arlanda, and we are the ones who must make sure that customers get the best service so that they have a nice experience at the airport.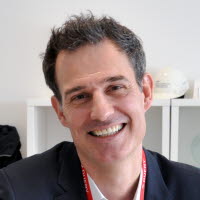 "If I were to choose another path in life, I would be a professional gardener," says the CEO of Dufry Sweden, which operates all the tax- and duty-free shops at Swedavia's airports.
The year: 1973. Karl Walter was born in Portugal, then a dictatorship, the son of a German father and a Swiss mother. The house they lived in was comfortable since it was one of the first to have central heating. The neighbouring streets were still just gravel and dust. Five months later, the Carnation Revolution took place, which created a democratic Portugal as well as the opportunity for a better childhood for Karl.
As a child, Karl attended a German school, Deutsche Schule Lisbon. He continued his studies at The Swiss Hospitality School in Lausanne, which is known as the oldest and probably one of the best hotel management schools in the world. When he was only 23, he got his first big job in charge of the Swiss Pavilion at the World Expo '98 in Lisbon.
"It was good training for life, and I quickly got to develop my leadership and my self- confidence. As a young manager, I worked day and night to do a good job. I quickly learned to take a step back and rely on my team. And to reflect daily on my actions in order to continue developing as a person," Karl recalls.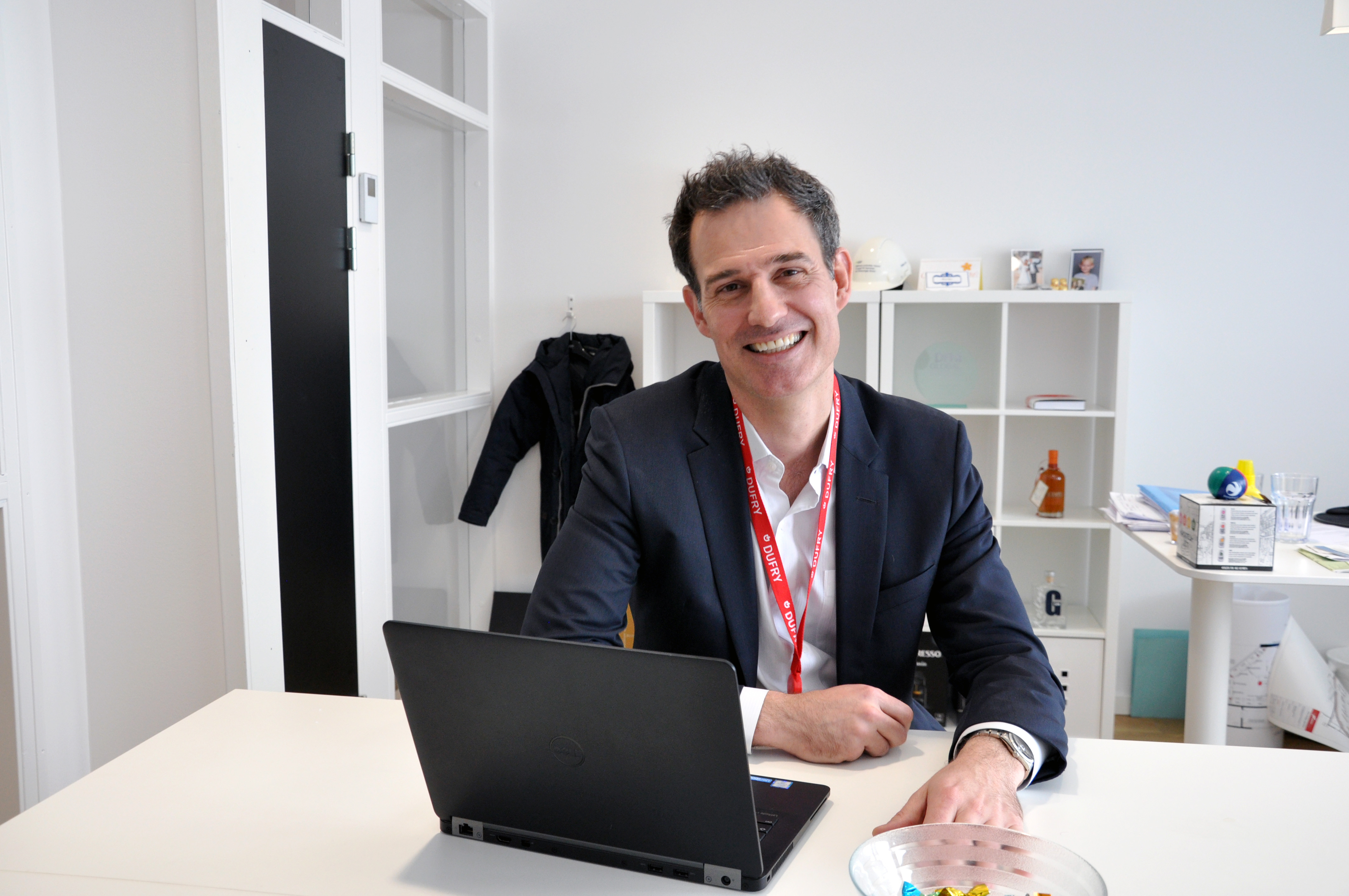 The proximity to the terminal from the office is unbeatable.
In 2003, Karl joined Nuance Group as a Category Manager, and he gradually made his way to where he is today.
"I was given responsibility for more and bigger projects the entire time since my bosses saw me as someone with the capacity to lead without being the boss. It is a tough balancing act leading without being the boss, especially if you are supposed to lead people with more experience than you have."
Karl's first contact with Sweden was in 2005, when he led a project for the refurbishment of several tax- and duty-free shops at Stockholm Arlanda. Three years later, he was back in Sweden – this time as CEO of Dufry Sweden.
"That was when I fell in love not just with the country but with my future Swedish wife, who I met in 2012. We got married in Portugal three years later. The most important thing for me was to make my wife happy, which makes me happy, but also planning a wonderful party together with her for all our guests. I wanted to make it a memorable occasion for everyone who took part and at the same time do it with quality and style – especially for all the Swedes who travelled a long way to come to our wedding," Karl adds.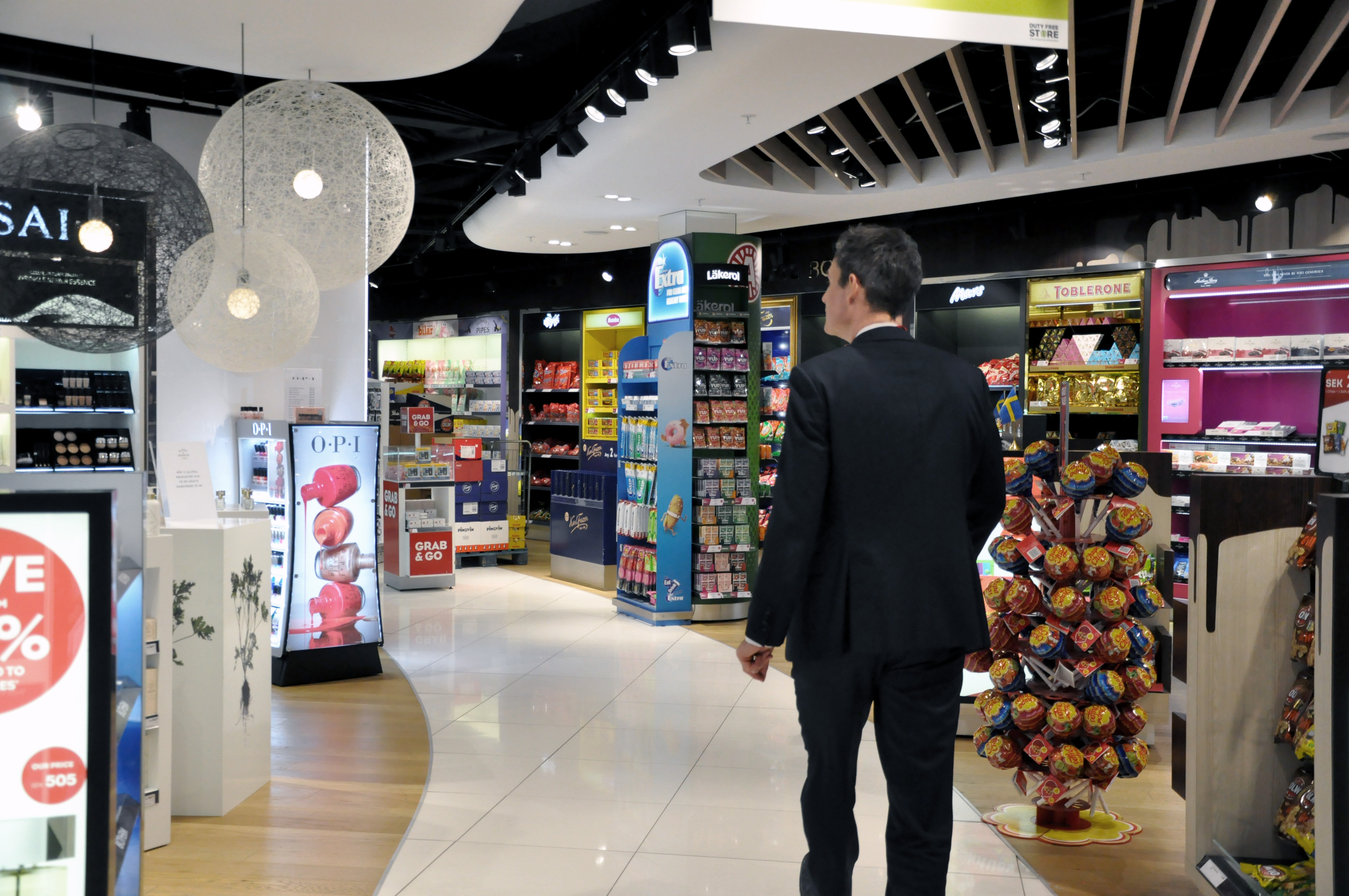 There is a Duty Free Store in all of Stockholm Arlanda's terminals.
Karl has a beautiful garden in Portugal, which they visit on a regular basis.
"If I were to choose another path in life, I would be a professional gardener. In a garden, I have room to be structured and at the same time I get plants to bloom. I like gardens and gardening works because it is similar to getting companies and people to grow and realise their full potential."
Today Karl is not a professional gardener but rather CEO of Dufry Sweden. He runs all the tax and duty-free shops at Swedavia's airports. He speaks seven languages, four of them fluently, and has brought together the different cultures of his upbringing in his way of living and leading – structured with a great sense of service-mindedness and an emphasis on the people around him.
Karl's work involves managing and developing the company's shops, a job that differs from one in a company that has shops located in typical shopping centres, since a great variety of people from all around the world shop in tax-free shops.
"At Dufry Sweden, we have tax-free shopping at airports, which means we are the last step that passenger take before leaving the country. We want to provide visitors with a good final image of Sweden and maximise the minutes we have with our visitors. We do this by offering the right products and the right experiences to our visitors," says Karl.
"A tax-free shop at the airport has the advantage of being able to offer good value for the money on a wide range of products that cannot be bought in everyday life. It is the perfect place for finding a gift or the latest fragrances, skincare products and cosmetics," Karl adds.
Beginning in 2019, Dufry will assess all of its shops in order to provide an even better range of products, updated shop concepts and an even better visitor experience. In 2021, a new concept will also be launched in the new pier that will be built at Terminal 5 at Stockholm Arlanda.
"I look forward to helping Swedavia's airports become better airports. We are the heart of this emotional experience, together with the other commercial operations. And it is our responsibility to give passengers a good memory that they can take with them from the airport," Karl concludes.