Swedavia Real Estate's sustainability work
Environmental aspects comprise an important part of our drive to be a leading estate company. We shall take into consideration both the short- and long-term environmental impact on people and nature both in new construction and refurbishment and in the future use of the property.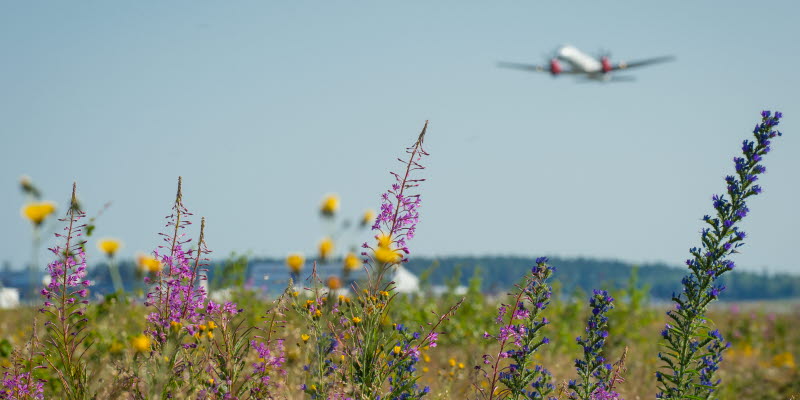 Guidelines for environmental care
Swedavia's operations are wide-ranging and complex. A large number of buildings are needed in order for the airport to function well for the airport's operations and passengers and for the companies that operate at the airports. So there are clear guidelines outlining our environmental concern in construction and refurbishment. A few examples of them are:
All new public buildings must be environmentally certified in accordance with LEED, BREEAM or the equivalent, which means measures to ensure that the building has a small environmental footprint both in its construction and operation.
Building materials shall be recommended or accepted by Byggvarubedömningen, a Swedish non-profit organisation owned by large building companies and property owners, which means among other things that materials have a low content of potentially harmful chemicals and that they can be recycled.
Swedavia's environmental guidelines for construction are applied to all new construction and refurbishment projects and help reduce the environmental load both during their construction and operation.
Swedavia's overall targets
One of Swedavia's overall environmental targets is to have zero fossil carbon dioxide emissions from its own operations by 2020. Since 2007, emissions from the company's own operations have decreased by 75 per cent so the target is within reach.
Swedavia's environmental requirements for buildings
The ambition for the energy performance of buildings is for them to be at least 25 percent better than the construction regulations in effect.
Building materials shall have as little impact on the environment as possible.
Wood products shall come from certified forests.
Preventive measures shall be taken to minimise the impact on water.
Stockholm Arlanda Airport
The buildings at Stockholm Arlanda Airport are heated by district heating produced from biofuel. Swedavia also buys green electricity certificates corresponding to all electricity used at the airport. Stockholm Arlanda Airport also has the ambition to environmentally certify a number of new buildings, which will further reduce the impact on the environment. As a result, this will improve the environment, make energy use more efficient, reduce the use of materials with toxic substances, reduce the use of water and reduce the amount of waste generated. Certification entails a third party examining and approving the proposed rating.
Would you like to know more about Swedavia's environmental work?
Read more here