Lease office space at Office One at Stockholm Arlanda
Workplace with the best airport location
At Stockholm Arlanda Airport, you can lease office space that gives you a workplace with the best airport location. Office One is located right next to SkyCity, only a few minutes from the terminals and the airport's other transport links. With an office here, you can work close to both Stockholm and Uppsala. You will also be closer to your customers and business partners elsewhere in Sweden and the rest of the world.
Office One has 15,000 square metres of office space divided over ten storeys which you can lease in the layout that best suits you.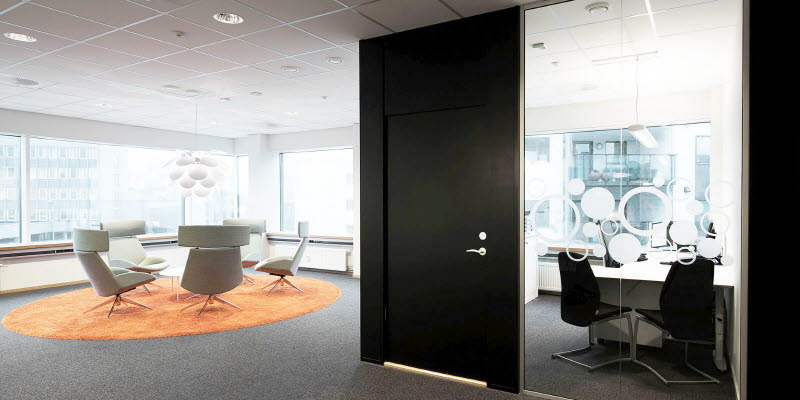 Uniteds Spaces to open at the Office One complex in the spring of 2019
United Spaces, one of the leading Nordic companies in co-working, will move into the airport's Office One complex (levels 1 and 2).
United Spaces provides flexible office solutions and co-working for various needs as well as meeting rooms.
Why lease office space at Stockholm Arlanda?
To make your choice easier, we have put together here a few of the benefits of moving your office to Office One and Stockholm Arlanda.
Stockholm Arlanda is located just 20 minutes from Stockholm and Uppsala, a region that is experiencing strong growth.
There are good transport links from Stockholm Arlanda to other cities in Sweden.
An office that has the airport nearby brings you closer to your customers and colleagues all over the world.
You can walk to the terminals in a few minutes, and it is easy to fly to more than 180 destinations.
You save important time for meetings when you can welcome your visitors right at the airport.
Office One is located in the middle of the airport city now taking shape around Stockholm Arlanda.
There are hotels nearby, including two in SkyCity.
There are options for working out before, during and after work hours.
You have a chemist, a health clinic, banks, a dry cleaner and other services located nearby.
When you want to eat breakfast, lunch or dinner, you have many options to choose from.
You get modern office premises with high-quality insulation, climate control and ventilation.
The atmosphere – it has to be experienced.
The building is designed for maximum efficiency and minimal energy use. It will be equipped with high quality insulation and climate control and certified in accordance with BREEAM-SE environmental certification standards.
Leasable space: 250–10,000 m2, with 1,070 m2 on each storey.
Premise options: Office, showroom, meeting venue
Construction: 2018
Storeys: 10 in total.
Occupancy: Autumn 2018.
Ceiling height: 2.7 metres for office storeys
Telecom/data: Ducts are installed. Telecom cables are run by the tenant. There is fibre run to the connection point in all premises.
Parking: Available in the area.
Room air temperature: Summer 22℃ (+5℃, -2℃).Winter 22℃ (+2℃, -2℃).
Cooling: Cooling is provided by cooling baffles and inlet air.
Heating: Heat is provided by radiators and inlet air.
Air control: Base airflow with CO2 control
Lighting: General lighting, 300 lux.
Burglary protection: Class 2 security/safety and class 2 burglary alarm system.
Fire safety: Full sprinkler coverage, otherwise in compliance with regulatory requirements.
Solar protection: Interior motorised and user-controlled solar protection curtains.
Do you think Stockholm Arlanda feels far away? Then it's time to think again. It takes just 20 minutes to get to Stockholm with Arlanda Express's high-speed rail service. Commuter rail service to Uppsala takes the same amount of time.
Would you like to know more or get a tour of the area? Call Andreas Wallebom, Leasing Manager, phone: +46 10 109 13 35 or fill in the contact form and we'll get back to you.