Airport City Stockholm is a development project run together by Swedavia, the Municipality of Sigtuna and Arlandastad Holding.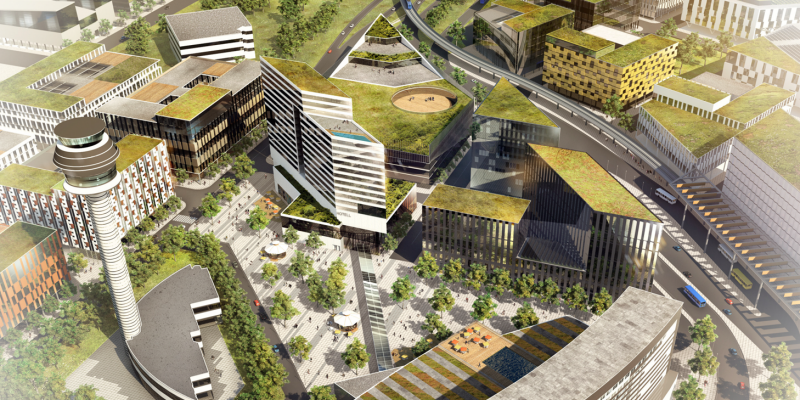 Airport City Stockholm covers an area of about 800 hectares. Together, these three parties have now worked out a vision for leading the development of the airport city.
The Stockholm region is growing, and so is business there. More and more companies need new areas to set up operations in, At the same time, there is a desire to be located in business areas that are well developed and provide good services and access.
Swedavia, the Municipality of Sigtuna and Arlandastad Holding together have developed a vision: create a modern airport city with a vibrant city centre and attractive areas for work, which because of their location have exceptional access to the region, elsewhere in Sweden and the rest of the world.
A shared urban development strategy has also been established, which is evidence of the shared drive of the three parties and a tool for quickly achieving this vision.
Read more about Airport City Stockholm (new window)
News and press information (new window)
Read more about the urban development strategy (new window)
Perfect location with easy access to the rest of the world
The location of Airport City Stockholm is hard to beat: next to Sweden's largest airport, Stockholm Arlanda. The airport city is taking shape between the cities of Stockholm and Uppsala and is close to railways, roads, air links and the rest of the world. About 20,000 people work here, 200 companies have operations at the airport and nearly 22.5 million passengers passed through the airport in 2014.
The goal of the new airport city is to be sustainable, commercial, nearby, urban and ecologically viable, which makes Airport City Stockholm a globally unique urban development project.
Districts in the airport city
The airport city will consist of six districts, each with a unique purpose. Construction is under way in the city centre, SkyCity, on the first office building, SkyCity Office One.
1. SkyCity: the airport city's city centre, will provide a feeling that people are already in central Stockholm.
2. Park City: the entrance to the airport and a green park area that connects the area to the other districts.
3. DriveLAB Stockholm: a knowledge cluster for developing the automotive industry of the future.
4. The business area in Märsta: a business area that is already established, offers good services and is well integrated with the town of Märsta.
5. Cargo City: Cargo and logistics at the airport: immediately adjacent to the airport, with a focus on cargo and logistics.
6. Logistic Center – Rosersberg Logistics next to the E4 motorway: logistics hub with warehouse buildings and extensive parking and docking facilities.