The path to its zero emissions target
Environmental concern is crucial in order for Swedavia to run and develop its operations sustainably. So Swedavia's top priority environmental target is no emissions of fossil carbon dioxide from its own operations after 2020. Ronneby Airport achieved this target as early as in 2016, while Luleå Airport and Åre Östersund Airport are expected to do so in 2019. So far, Swedavia has reduced its emissions 84 per cent since 2005.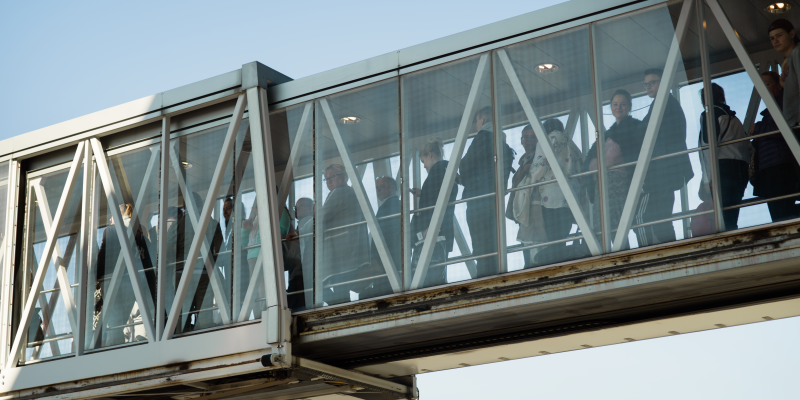 Swedavia's own vehicles account for 95 per cent of its own carbon dioxide emissions, so a switch to renewable fuels is necessary to achieve the zero target set.
Swedavia is trying, to the greatest extent possible, to replace fossil fuels with electricity, biogas and synthetic diesel (HVO) while also renewing its vehicle fleet. Meanwhile, the company continually monitors its own energy use in its properties and airport facilities.
The most difficult challenge in this area is to find a fossil-free solution for the airports' uninterruptible (emergency) power supply. All of Swedavia's airports are already certified at the highest level of Airport Carbon Accreditation's standards for the airports' climate work.
The switch to bio aviation fuel is one of the most important activities for reducing the environmental impact of the air travel industry
Swedavia also strives to help the air travel industry as a whole to reduce its environmental impact. One of the most important activities in this area is the work for a switch to bio aviation fuel.
In 2017, Swedavia received an award for its procurement of bio aviation fuel corresponding to the amount used for the company's own air travel on official business. The problem is that access to bio fuel is low and the price is high. Swedavia is working together with the Fly Green Fund and the Nordic Initiative for Sustainable Aviation (NISA) to find a solution to enable an effective supply of bio fuel. There is great potential in Sweden and the other Nordic countries – both in terms of technical know-how and raw materials – for more large-scale production.
Swedavia awarded for its work with renewable aviation fuel
At the annual Airports Going Green conference, held this year in Dallas, Texas, Swedavia was honoured for its work with renewable aviation fuel. In conjunction, Swedavia, together with a number of international airports, decided to sign the Airports Sustainability Declaration. Together, the airports shall work for sustainable development in the industry and support the UN's Sustainable Development Goals.
Download the full Annual and Sustainability Report 2017, PDF