Swedavia makes it possible for people to meet. That is the very purpose of our
operations, and we are proud of that. In 2018, we successfully continued to enhance access through new routes, while passenger growth at our airports slowed. During the last quarter of the year, we even saw a decrease for the first time in many years. Meanwhile, we have made great advances in our development programmes and in our work to create the conditions needed for a transformation of the air transport industry in order to tackle climate change.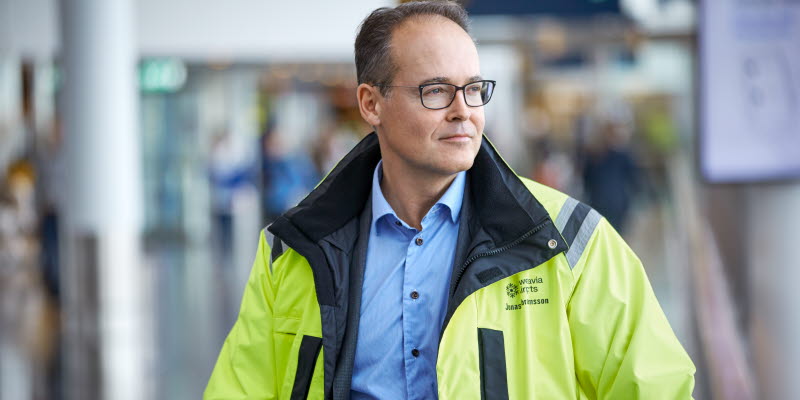 Some 42 million passengers flew to or from Swedavia's airports in 2018, which is a slight increase compared to 2017. International travel was up more than two per cent, while domestic travel fell more than three per cent. Globally, air travel shows strong growth, driven in part by globalisation, a growing middle class and people's desire to encounter new cultures.
For Sweden, a country that is dependent on exports, geographically spread out and located in remote northern Europe, aviation plays an important role. I am convinced that air transport is absolutely crucial to our economic development and to our country's continued competitiveness. But I am also convinced that air transport must be transformed and become sustainable in order to be one of the transport modes of the future.    
Increased access
Good air links create better conditions to compete for meetings and events, attract visitors from new markets and cultures, and contribute to business opportunities and job creation, both in society and at our airports. In this way, enhancing access for Sweden is thus one of Swedavia's most
important tasks, and in 2018 we were very successful in that respect, with more than 40 new routes established.
During the year, among other additions, we launched a number of new intercontinental direct routes. Direct routes improve links to markets that are critical to Swedish business, promote tourism and attract capital and knowledge to the region. One of these is Qatar Airways' newly established route from Göteborg Landvetter Airport to Doha. With Doha as a hub, business and leisure travellers in western Sweden can continue on to the airline's 160 destinations in Asia and Africa. The new direct route also means good cargo potential for export companies.      
The leading airport in the Nordic region
Our goal is for Stockholm Arlanda Airport to be the leading airport in the Nordic region. To achieve this, we must be competitive and have support from political leaders and the business community. One important collaborative forum that the Swedish government took the initiative on in 2017 was the Arlanda Council, which continued its work in 2018. The advisory body considers broad questions and interests when Stockholm Arlanda is developed and creates conditions for a broader consensus on what is needed to achieve this goal. The initiative also sends a clear signal about Stockholm Arlanda Airport's importance to Sweden as a successful export country and as an attractive country for investment, tourism and business start-ups. A strong Stockholm Arlanda is also an essential condition for good access in other parts of Sweden, both to elsewhere in the country and to the rest of the world.
The right conditions for sustainable air transport 
During the year, the discussion in society about climate change and the impact of aviation intensified. Reducing its impact on the climate is the air transport industry's foremost challenge. Air travel has become 70 per cent more fuel-efficient over the past 40 years, but since air travel continues to
increase globally, efforts for a full-scale transformation of the air transport industry to tackle climate change must also intensify.
Swedavia works actively to accelerate the development of sustainable air travel. During the year, we adopted a new strategic target – five per cent of jet fuel used at Swedish airports must be renewable by 2025 at the latest. That corresponds to the pace needed to achieve fossil-free domestic air
travel by 2030, which is an important target for the Swedish air transport industry's road map to fossil-free air travel. This target raises Swedavia's level of ambition in its climate work. We already have a target of zero fossil carbon dioxide emissions from our own operations by 2020, a target that was very challenging when we set it but which we are firmly resolved to achieve. We also purchase bio jet fuel each year that corresponds to the amount used in the Company's own air travel for business purposes. We do this to show that even today it is possible to fly sustainably and to inspire other companies and government agencies to do the same. 
In April 2018, a Swedish national aviation tax was introduced. The effects of the tax have not yet been determined, but it has probably suppressed demand for air travel. Unfortunately, the tax does not contribute to the transformation of air transport in order to tackle climate change. In the short
term, bio jet fuel may do the most to reduce the climate impact of aviation. To bring about a large-scale shift to bio jet fuel, longterm well-functioning policy instruments are needed. I would thus welcome a proposal to implement a Swedish reduction quota scheme as an alternative to the aviation tax. A reduction quota scheme would begin the necessary transformation to a sustainable air transport industry, reduce the climate impact of air travel and stimulate Swedish large-scale production of bio fuel. Using by-products from Swedish forests as raw materials, we have fantastic
potential for bio fuel production and for creating a new industry in which Sweden can take a leading position.
Together
During the year, Swedavia initiated a transformation programme in order to handle cost challenges and create the conditions needed for long-term profitable and sustainable operations. We shall not just shape the airports of the future but also the Swedavia of the future.
Our company is currently in a phase of intense development. We are doing this in order to meet our customers' needs and we are doing this together with all our employees and partners. In development phases, it is perhaps even more important than at other times to focus on what must be the
foundation of all operations – that they are safe and secure and that the physical and psychosocial workplace environment at our airports is as good as it can be. This work is always a priority at Swedavia and will continue to be so in 2019.
Running our operations from a social, environmental and economic sustainability perspective is a fundamental condition for everything we do and is necessary for long-term profitability. In 2019, I look forward
to continuing running and developing our airports together with all our engaged, capable employees and through our operations being a growth engine for Sweden. A sustainable Sweden is an essential condition for long-term competitiveness. Similarly, a competitive Sweden is an essential
condition for pursuing sustainability issues in earnest over the long term with the energy that is needed. The transport modes of the future must be sustainable, and air transport is an integral part of the transport of the future. Together we make it possible for future generations to benefit from
the opportunities provided by air travel, and as a result long-term competitiveness and prosperity for Sweden are created.
Jonas Abrahamsson
President and Chief Executive Officer