Customers with different needs
Often an airport has to function around the clock, year-round. This means that the operator that runs the airport needs to work together with airlines, suppliers and tenants to take care of passengers, the mutual end-customer around which everything revolves. Together, the stakeholders at an airport – despite their different requirements – can contribute to the attractiveness of a destination and thus to access, employment, business, meetings and diversity.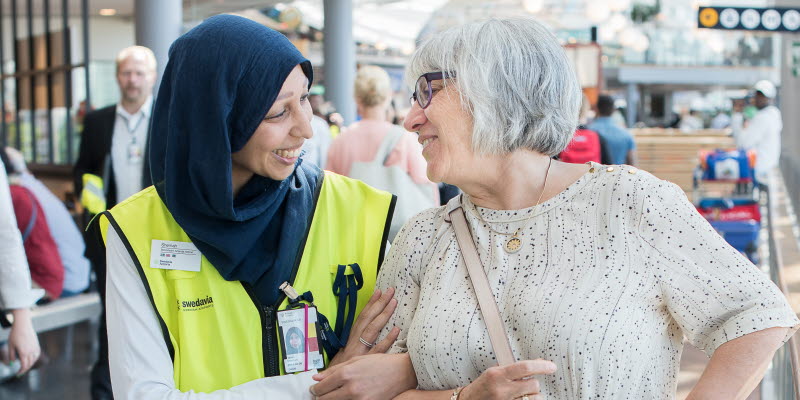 But good collaboration is not enough – all customers have different needs and expectations. In 2016 and 2017, Swedavia worked to create a comprehensive view of what passengers have in common and where they differ.
Five different behaviour profiles were identified, all of which are represented to various degrees at Swedavia's airports. There are comfortable life enjoyers, planning dreamers, cost-conscious discoverers, efficient business travellers and service-demanding security seekers. For each of these groups, Swedavia has examined the entire customer journey, what the passenger encounters, from the planning of the trip to the return home.
The phases are the same for all passengers but are experienced differently depending on their needs
The passenger cycle illustrates the different phases in the customer journey – for instance, parking, check-in, security screening, gates, travel and baggage handling. The phases are the same for all passengers but are experienced differently depending on their needs, expectations and experiences. What is important to one passenger is not the same for another. Swedavia needs to understand and see this in order to provide each passenger with as good a customer journey as possible. Therefore every phase of the passenger cycle is studied and analysed to clarify the potential for improvement.
Our airports shall be the most important meeting places in Scandinavia
The knowledge gathered in this customer journey project is an important building block not just for customer service but also when Swedavia is now building the airports of the future. Over the next decade, major investments are being made in infrastructure, digital technology and better flows at all of the company's airports. The aim is to increase both capacity and efficiency. Another aim is to create smoother and more inspiring travel experiences, making the airports the most important meeting places in Scandinavia as well as international role models in sustainability. They shall be growth engines for their region and for all of Sweden.