About Airport Advertising
Airports are modern environments for travels, meetings, business and leisure and every year millions of people pass through the ten Swedavia airports. Airport Advertising creates customized solutions for you as a customer to achieve the optimal effect of your campaigns.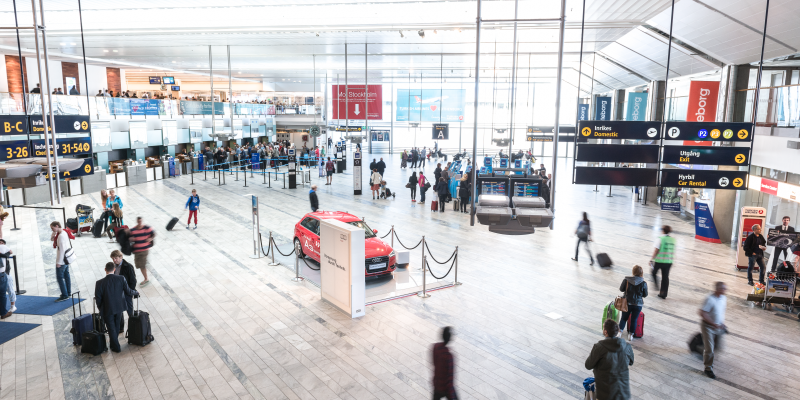 At the airports you are given the chance to go that extra mile and create out of the ordinary marketing. And by combining vast spaces and exclusive formats with strategic placements we have created prerequisites to reach out with messages with the utmost effect.
Reach hundreds of thousands of travelers each week
In 2017 Swedavia reached passenger record once again with more than 41.6 million people traveling to or from any of our ten airports during the year and every week approximately 800 000 travelers pass through the airports. At the airports you will also find a unique passenger dwell time. On average the travelers spend 90 minutes at the airport before departure.
The new passenger record is an increase of six percent compared to the previous year and the passenger growth is taking place at an incredible rate. Since 2010 traveling through Swedavia's airports has increased with more than 50 percent and the goal for our largest airport – Stockholm Arlanda – is to be Scandinavia's leading airport by 2020.
Receptive and affluent target groups
Airports are positively charged arenas that signal exclusivity, excitement and expectations and the majority of the travelers are receptive to change, and belong to a market with spending power. It is therefore especially easy to communicate with the target groups at the airport. Airport Advertising is a massive opportunity to reach exclusive and relevant B2B and B2C audiences with both geographical and numerical range, that are easy to communicate and with long dwell time.
Unique knowledge of the travelers
At Swedavia we constantly work to develop atmosphere and variety at the airports to make the travelers stay pleasant. Therefore we conduct continuous travel surveys and trend tensions. This means that we have extensive and unique knowledge of how the travelers behave, what their perception of travels and our airports are and what they would like to see in the future. With this knowledge as a basis, we also optimize the advertising business to offer modern services and tailored marketing solutions where the target groups are found and that are attractive to our advertising clients.
Swedavia offers a wide variety of exposure opportunities and display areas. And by combining vast spaces and exclusive formats with strategic placements we have created prerequisites to reach out with messages with the utmost effect.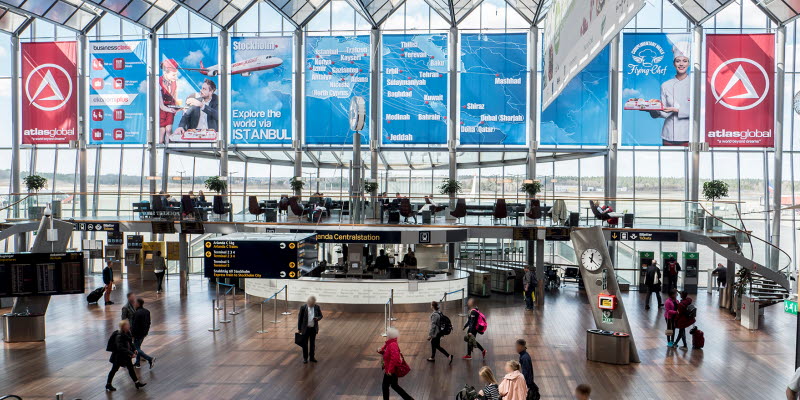 The dwell time at the airports is long and you as an advertising client have great opportunities to follow and communicate with the travelers throughout the entire airport stay, from the arrival to the airport until departure and arrival at the final destination.
Analogue
Analogue formats such as banners and backlit lightboxes are among the most common exposure areas at Swedavia's airports. The formats and placements are strategically adapted to reach maximum impact.
Digital
Digital out of home advertising is integrated and interactive and offers a wide range of possibilities to adapt campaign messages to attain ultimate reach, visibility and impact.
Airport Advertisings offer of digital exposure opportunities consists of a number of widescreens located at selected airports as well as two nationwide digital networks with close to 300 faces distributed among the ten Swedavia-airports. The portrait series is placed in the largest passenger flows were high reach is enabled and through the landscape gate series messages can be further amplified in areas where the travelers reside for longer periods of time.
Promotion
Our surveys show that travelers appreciate when things happen around them at the airport and that marketing activities and advertising campaigns contributes to a good atmosphere. Promotion areas are available at all of Swedavia's airports and are located in the largest passenger flows. Interact with the travelers through the personal meeting, showcase and sell products and give the travelers a one-of-a-kind experience in connection with the stay at the airport.
Other media
We also offer a variety of analogue formats that allow you as an advertiser the freedom to design the individual characteristics of your advertising area and campaign. Due to the sizes of the advertising areas, your message will unavoidably be eye catching for both travelers and visitors. Wall and window areas are large and customizable formats, brand entire passenger flows and airport areas, or choose to appear on thousands of luggage trolleys and value boxes.
Magazines
On average the travelers spend 90 minutes at the airport and much of the time I spent in the gate area while waiting for boarding. Distributing magazines, newspapers and brochures in Swedavia's newspaper stands provides a good service and experience for the travelers and allows you as an a client the opportunity to reach all travelers.